For an animated look at this character click on the Graphics below...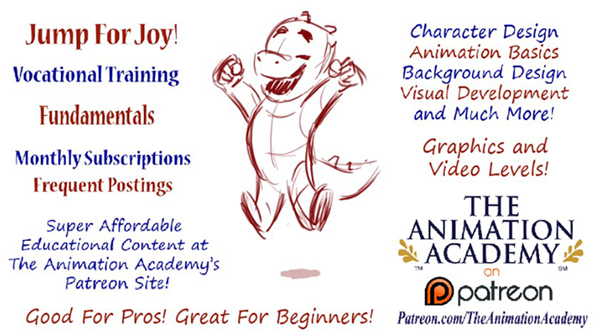 Wishing you a fantastic creative year ahead!
The Academy is expanding its content on Patreon. This format will be extensively developed in the coming days in a unique and significant way. It will become the central educational venue of The Animation Academy.
We have a huge archive of exceptional materials to publish. Years worth of class notes and demonstrations in all sorts of subjects exclusive to our Patreon which you'll be able to see and follow. 
The Academy's Patreon has updated subscriber levels to reflect our new direction. Very affordable artistic education by means of graphics and videos organized in categories for easy access. This will be our primary tool for sharing knowledge as we migrate away from our previous model to an alternate one.
We have a $5 monthly level for graphics based lessons, a $10 level which will include access to videos, and a $20 level which will feature a monthly live stream option.  
Content is uploaded just about every day. To get started follow this link to The Animation Academy on Patreon.See the difference this great reference material and specialized lessons will make with your art!
Thank you and Keep Creating !!